Resources
The Masters Collection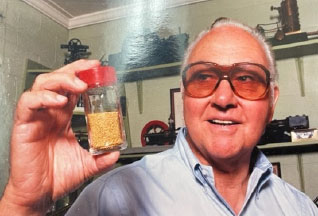 The discovery of gold in the Southeast sparked the opening of mints in Dahlonega (Georgia) and Charlotte (North Carolina) in 1838. Several of the mints fell victim to circumstances beyond their control. For instance, in 1861, Confederate forces seized the Charlotte, Dahlonega, and New Orleans mints. The 1861-D Gold Dollar in this collection is thought to have been minted by someone in the Confederate Army as there are only records in the Federal Archives that show that they minted 1861-D Half Eagles $5 gold coins while under U.S. control. The first two mints were shut down as a result, never to reopen, but the New Orleans Mint was recaptured by federal troops and produced coins until 1909. Today Southern gold coins are among the most popular series of United States coinage.
Dahlonega Gold Coins 1838-1861
The Dahlonega Mint opened in 1838 to process locally mined gold. Output at this mint was always low, yet it continued to operate until 1861, when Confederate forces seized the building at the outset of the Civil War. In 1878, the Dahlonega Mint was destroyed by fire. Today, Price Memorial Hall of North Georgia College sits on the original foundation of the Dahlonega Mint.
MASTERS COLLECTION OF DAHLONGEA GOLD
The Masters Collection was assembled over several decades by a prominent Georgia businessman who was passionate about the history of gold mining in the state. His interest included coinage from the iconic Dahlonega Mint and actual gold nuggets and dust from his operations. We will be following the sale of this collection with small amount of this available also.
His collection of Dahlonega gold coins was complete with several duplicates. Most of the coins have only recently been graded and are fresh to the market. Some coins had been cleaned and were sold wholesale and you are now being presented the first chance to purchase the most desirable coins from this impressive collection. Southern gold coins have become extremely sought after in the last few years. The Masters Collection contains several important rarities that rarely come to market.
Photos are available on an associate web site: See the Coins
Should you be interested in purchasing, call Bob Harwell for special pricing.